The proposal to build the Garden Bridge between Waterloo and Blackfriars Bridge has stumbled on for the last few months.  Focus has shifted from the aesthetic and practical purposes of the bridge that isn't a bridge/park that isn't a park to the funding and procurement of the bridge.
The Ramblers is against the Garden Bridge because it will destroy views from the Thames Path, and make use of that National Trail more difficult by attracting more visitors to an already densely-grockled part of the South Bank without.  It will enclose, for private uses, currently public open spaces, destroying mature trees.  We believe that the public money that is committed to it would be better used improving cross-river connections away from Central London.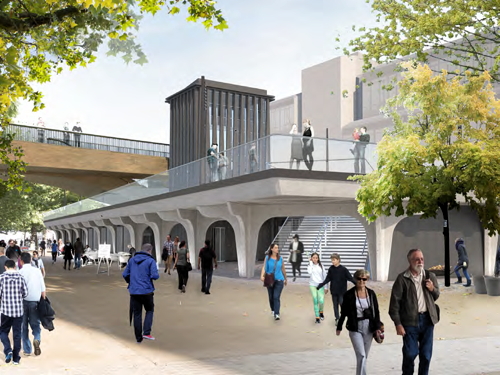 The Garden Bridge proposes replacing green space and mature trees adjacent to the Thames Path national trail with this construction - photo from london-se1.co.uk
The National Audit Office has said the £60m of public money being spent on the bridge was at greater risk than the private funds, and a "high degree of uncertainty" hung over the scheme's value for money.  It described as "unorthodox" the way that the Chancellor, George Osborne, offered central government money to the scheme, adding that "The department's own quantitative analysis suggested that there may or may not be a net benefit and, especially once concerns over deliverability were taken account of, the project might well not have met the department's normal threshold for allocating its finite funds." (Guardian, 16th January)
There have been a series of questions about the procurement process for the bridge's design.  Today, the President of the Royal Institution of British Architects (RIBA), Jane Duncan, claimed that that the winner of the contest to design the bridge was selected unfairly, said she was extremely concerned about the allegations, and that the procurement process should be stopped and scrutinised before more public money was put at risk. (Guardian, 9th February).
The more light that is shed on these processes, the more the Garden Bridge project looks like an attempt to enclose our public spaces while using our money to pay for it by giving it to friends of the current Mayor.
Construction looks unlikely to start before the Mayoral and GLA elections - Lambeth's planning conditions have not been met, the Trust does not have permission to sub-let the Coin Street Builder's land on the South Bank, and their fund-raising does not look like it is making much progress.  We need to keep the pressure up on the current Mayor, the candidates to be the next one, and the Garden Bridge Trust.
Go to the Thames Central Open Spaces campaign site to find out how to help to make sure that the national trail through central London is not despoiled by this unnecessary and costly tourist attraction,